New Product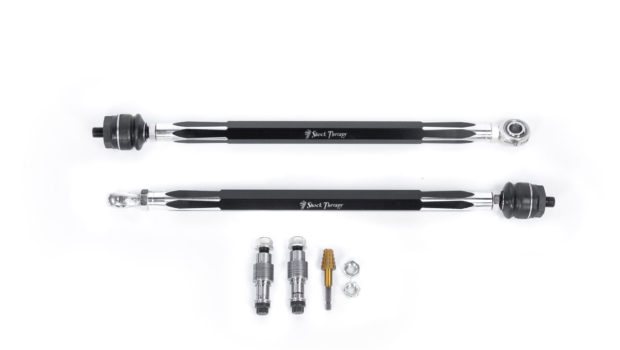 Published on May 27th, 2022 | by Joe
0
Shock Therapy Unveils the Ultimate End-to-End Tie Rod Kit
PHOENIX, Ariz., May 23, 2022 –– The new and unbeatable Tie Rod Kits from Shock Therapy (www.ShockTherapyUSA.com), the market leader in off-road suspension, are in-stock and actively shipping for select Polaris and Kawasaki models.
The stronger, end-to-end solution, that retains alignment of factory geometry
To the unaccustomed off-roader, tie rods themselves may appear rather simple, with material strength seemingly the sole factor determining quality. Nevertheless, what seems like a no-brainer upgrade can lead to further problems and complexity –– which can alter factory geometry and increase feedback from bump steer, which occurs as the tires toe in-and-out as the suspension cycles through its travel.
Utilizing proprietary designs and patented technology, the Tie Rod Kits from Shock Therapy provide an all-in-one solution that minimizes or eliminates bump steer and strengthens the factory tie rod.
BSD (Bump Steer Delete)
By adjusting the height of the outer joint, the mounting system for the hub side of the tie rod allows you to virtually eliminate the bump steer in your UTV. Simple yet revolutionary, our patented BSD Kit comes standard with all of our Tie Rod Kits. Without it, steering wheel feedback can lead to difficulties controlling your UTV and premature front end wear.
Tie Rod Kits: Specifications & Overview
Precision machined from high-strength 7075 billet aluminum and hard anodized for maximum strength and longevity.

Comes standard with our patented BSD (Bump Steer Delete) Kit.

Proprietary, heavy-duty, inner joint that retains the stock geometry. Made from heat-treated 4340 high carbon steel. 20% larger at the factory weak spot.  Adapts to all factory racks and pinions.

Chromoly 5/8" Teflon lined rod ends ensure the highest strength, longest life, and no squeaking.
We manufacture each component of our Tie Rod Kits to be the strongest and highest quality on the market. As a result, only Shock Therapy's Tie Rod Kit allows you to simultaneously eliminate steering wheel feedback, add comfort & control, all while strengthening the tie rod itself.
Compatible Models: Polaris RZR XP1000, Polaris RZR XP Turbo, Polaris RZR Turbo S, Polaris RZR Pro XP, Polaris RS1, Polaris RZR XP 900, Polaris GENERAL XP, Kawasaki KRX1000
Learn more and order here.
http://shocktherapyst.com/all-products/tie-rods/
About Shock Therapy
Dominating the off-road industry as the premier suspension tuning company, Shock Therapy has over 25 years of racing experience and data to build upon in order to deliver the highest quality products to their customers –– whether they're looking for a plush ride on their weekend toy, or a race-winning setup to ride roughshod over the competition. Unlike most other suspension companies, we don't just rebuild or re-valve shocks, we physically drive, test, research, and develop all we do to achieve the best possible system for the application. We test nearly every model of UTV on the market on our own, private, 5.5 mile test track with one thing in mind: creating the BEST ride possible with quality components.
With our suspension expertise, you can exponentially improve your ride quality the minute you bolt a Shock Therapy product on your vehicle.
For more information, visit the company website at www.ShockTherapyUSA.com, or find us on Facebook, Instagram, & YouTube.