First Looks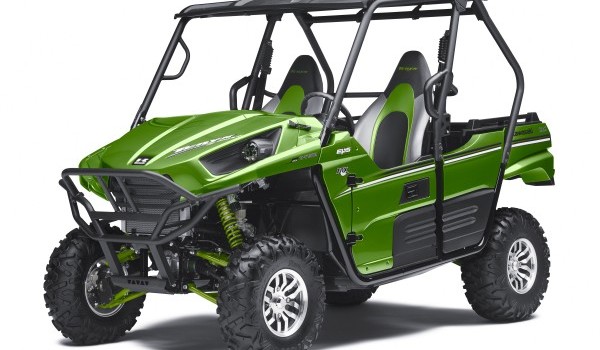 Published on September 6th, 2013 | by Joe
0
ALL NEW! 2014 KAWASAKI TERYX First Look
All-New Side x Side Boasts More Power, Better Handling, Enhanced Comfort and the Longest Warranty in its Class!
Story and Photos by: Kawasaki

The all-new 2014 Kawasaki Teryx® shatters the two-seat Side x Side mold with a new larger chassis, a significant overall power boost, and premium FOX Podium high-performance shocks. Add-in an all-new larger cockpit and an enhanced cargo bed and you get a bigger, bolder package that pushes the Teryx's performance, handling, comfort and utility to new levels. Whether tackling a tough job or a rough trail, the new Teryx delivers like no other Side x Side in its class.
Teryx's character-filled, purpose-built 90-degree V-twin is revered for its fantastic sound, stump-pulling power and amazing flexibility.For 2014, it packs more power than ever thanks to a substantial displacement bump from 749cc to 783cc. Those extra cubes generate a whopping 26% more power and 12% more torque right where you need it, in the low- to mid-range, which makes short work of scrambling up steep hills, stomping through mud bogs and crawling over rocks.The 2014 Teryx does all this while delivering better fuel efficiency than the old engine for even more driving time between fuel stops!
Kawasaki's engineers achieved these goals via optimized camshaft profiles and revised exhaust headers that allow the Teryx's new engine to consistently deliver exciting power when driving solo, with a passenger, or when carrying heavy loads. And yet the added torque hasn't upset the Teryx's super smooth character in the least, as its 90-degree V-twin design retains perfect primary balance to help keep things comfortable for the driver and passenger during long off-road treks.
Routing all that torque and power to the ground is a proven Continuously Variable Transmission (CVT), centrifugal clutch assembly and a three-mode electronically selectable 4WD system that features instant access to 2WD, 4WD and 4WD+Front Differential Lock modes for optimum gearing and traction simply by rotating a dash-mounted switch. The CVT is well-known for its quick response and direct engine "feel" in sportier riding situations, and its unique engine braking capability can increase driver confidence on descents, while turning and in rough conditions. So whether it's climbing a rocky uphill trail, negotiating a wet stream bed, hauling lumber for fixing fences on the farm, or just plain hauling down a wide-open two-track trail, the Teryx has an ideal drivetrain mode to handle it.
The Teryx side x side's all-new Double-X chassis takes on rough and technical terrain. Its highly rigid square tube frame effectively combats flex to provide superior handling over rough ground, and its extremely tight 16.7' turning radius makes maneuvering in close quarters a cinch – a real benefit over the competition that is often forced to make multi-point turns in the same space.
This stout frame was designed by Kawasaki engineers using detailed computer analysis and loads of off-road testing to create its super-strong Double-X design, which features two X-shaped cross members that bridge the frame's box structures from corner-to-corner for maximum strength and optimum durability. The frame is also significantly reinforced by the 2014 Teryx's upgraded and certified Roll-Over Protective Structure (ROPS), which extends all the way out to the edges of the bodywork to maximize cockpit space and help shield the chassis and bodywork from damage. The Teryx's underbody engine guards offer an added measure of protection by shielding vital components; their smooth surfaces act as a skid plate when grinding over the occasional obstacle becomes necessary.
This impressive chassis package is further enhanced with a wide-track/wide-body design that contributes to superb cornering characteristics. The wide track helps resist body roll during cornering and boosts its ability to cope with rough terrain at speed. Mid-ship engine placement, also new for the Teryx model, helps by centralizing the vehicle's center of mass to reduce turning inertia and promote easy direction changes.
Easy, low-effort and precise steering are hallmarks of the Teryx's clever Electric Power Steering (EPS) system. EPS offers additional damping on straights, especially on rough surfaces, as well as reduced steering kickback and bump-steer. The Showa-built system eliminates the traditional power-steering pump found on most of the competition, so steering inputs don't rob engine power, and it is only active when the engine is running, so there's also no battery drain. Input from vehicle speed and torque sensors determine the amount of steering assistance – more during slow-speed use, and less as speeds increase, just like a state-of-the-art sports car.
Teryx's independent suspension was already legendary, but the 2014 Teryx adds to the legacy by incorporating one of the best names in the high-performance suspension business, FOX. Stout steel A-arms at all four corners are mated to all-new, adjustable FOX Podium piggyback reservoir shocks with 8.0" of high-quality travel up front and 8.3" out back, to give the Teryx more trail-taming comfort than ever before.
Kawasaki engineers collaborated with FOX to fit the Teryx with the ultimate high-performance FOX Podium shocks, which are adjustable for spring preload and 24-way compression damping, to tailor the ride to the terrain. As always, Kawasaki and FOX incorporated a dual-mode design ideology so the adjustable FOX Podium coil-over shocks provide everything from cruising comfort with two passengers and a full cargo bed to sport-style bump absorption when driven solo. It's a difficult combination to get right, but the FOX Podium shocks get the job done by maintaining consistent fade-free damping in all driving conditions.
With the Teryx's substantially increased performance and improved handling potential, consistent brake performance is also essential, and the Teryx delivers with high-performance hydraulic discs up front using 200mm rotors gripped by dual-piston calipers for exceptional feel and stopping power. The brakes are recessed within the wheels to help keep them away from dirt, rocks, water and debris, while sturdy steel-braided lines help keep pedal feel crisp and progressive.
In back is Kawasaki's unique sealed internal wet brake, which features internal components that are completely sealed from mud, water, dust and debris. The result is powerful and ultra-reliable braking performance whether descending steep hills or running wide open on fast trails, wet tor dry.
Large 26" Maxxis Bighorn 2.0 tires offer the type of ride comfort, control and traction you'd expect from a Teryx side x side. Their construction and tread design helps maximize forward traction while optimizing response for aggressive cornering.
The Teryx side x side's 85.8" wheelbase affords it a surprisingly small turning radius, yet its substantial 11.0" of ground clearance helps keep it from bottoming when cresting an obstacle or ridge, while high approach and departure angles (79 and 65 degrees, respectively), reduce the possibility of smacking the front bumper when approaching a steep slope or scraping the tail when exiting one.
Teryx also excels at all sorts of workday tasks, from crew hauling to towing. Its sizable 28" by 43", tilting cargo bed is 10.4" deep and boasts a new, heavy-duty 600-lb. payload capacity with a flat bottom that is big enough for a large cooler, several spare fuel cans or other large objects. The bed also features the capability to add Kawasaki's optional new tool snap-mount system that allows for snap-mounting of Kawasaki accessories and/or tools to the bed rails. Four tie-down loops help secure the cargo, and two new water-resistant rear storage compartments offer 182 liters of total capacity – the largest in its class. The Teryx also features a latching tailgate that can be removed without requiring tools, and the tailgate features molded-in drink holders for added convenience. A 2" hitch receiver is standard as the Teryx's towing capacity is a substantial 1,300 pounds.
Convenience features include two DC power outlets providing up to 120 watts of peak electrical power, while nearly 8 gallons of fuel capacity and improved fuel economy for 2014 offer substantial range, enough for a long day on the trail. There's also a conveniently located beverage holder for each occupant.
The Teryx side x side's attractive styling matches its powerful image. It starts with an aggressive looking hood that opens for ease of maintenance up-front. The headlamp and fender designs give the Teryx a no-nonsense look that says "sporty" and "functional" at the same time. Accessing the front suspension, coolant reservoir, air filter and electrical equipment is easy, thanks to an easy-open front hood, which is part of a tough, sporty looking body package.
Unlike many of its competitors, the Teryx features factory-designed secure latching doors that are easy to use, look good and offer a high level of mud protection. Scratch-resistant Vibrant Blue bodywork and textured paint on the sturdy front guard and ROPS cage, help keep the Teryx looking sharp for a good long time.
Both the driver and passenger will enjoy riding in the Teryx during a long day, because it's the most comfortable Side x Side in its class, by far. Its roomy interior gives the driver and passenger ample room to spread-out, with plenty of hip, shoulder and legroom, and its all-new high-backed bucket seats feature high-quality cushioning and cold-resistant seat material for all-day plushness. The adjustable seats eliminate the need for a headrest and feature wraparound ergonomics to hold driver and passenger firmly in place. They also offer three positions in 1" increments to tailor the Teryx's comfort to fit a wide range of body types. And when the going gets rough, three-point seatbelts offer a high degree of security to keep the driver and passengers in place. Shock-absorbing comfort mounts and an anti-cinch feature on the seatbelts also help prevent over-tightening when the belts lock during sudden deceleration (or when the tilt sensor is activated).
Teryx's instrumentation is top-notch, and includes a multi-function electronic display that provides a ton of useful information: speedometer, fuel gauge, odometer and hour meter, clock, dual trip meters, 2WD/4WD indicator, front-differential indicator light, parking-brake indicator, water-temp and fuel-injection warning indicators, reverse indicator light, etc. – everything you need to know.
LE Model Delivers Premium Features in the All-New Teryx Side x Side
The all-new 2014 Kawasaki Teryx® LE isn't for everyone, and it doesn't pretend to be. Kawasaki's most exclusive two-seat Side x Side features all of the standard features that make the rest of the Teryx line the strongest and most reliable Side x Sides money can buy: a high-performance V-twin engine boasting a massive power increase, a rugged all-new larger chassis and premium FOX Podium high-performance shocks.
But the Teryx LE's custom styling and features are a cut above even its well-appointed siblings. Attention-grabbing custom touches give it an unmatched presence in the desert, the dunes, the mountains or the forest. Drive an LE, and you're bound to be noticed wherever you go!
Special LE model upgrades include:



High-Intensity LED Headlights

High-Strength Steel Brush Guard

Lightweight Cast Aluminum Wheels

Handy Cab Roof/Sun Top

Premium Candy-colored Lime Green Bodywork with Automotive Quality Paint

Shock Springs and Suspension Arms are Color Matched to the Bodywork

3-tone High-Backed Bucket Seat Covers
A Camouflaged New Two-Seater With A Trophy List of Bold Features
The all-new 2014 Kawasaki Teryx™ Camo's genuine Realtree® APG™ HD® camouflage graphic treatment is designed to keep it from being spotted easily, but with a massive power increase, a rugged all-new chassis that's both larger and stronger for 2014 and new premium FOX Podium high-performance shocks, the Teryx Camo can't help but make a bold statement wherever it goes… and it can go just about anywhere!
The Camo model is built tough for work or play. In addition to its new chassis and larger, more-powerful engine, this rugged Side x Side's features include a stout new tubular-steel front brush guard and new high-intensity LED headlamps, so you can navigate through dense and dark regions with complete confidence, and the Teryx Camo's dependability can be counted on to return you safely back to home base.
Special Teryx Camo upgrades include:
When you consider everything that has gone into the new 2014 Teryx, it's clear there is really no competition for its overall excellence.But Kawasaki didn't stop with simply building the best Side x Side in the world; they backed it up with the new Kawasaki Strong 3 Year Limited Warranty!It's well known that the Teryx's premium engineering makes it a long-lasting and dependable product.Now, that peace of mind is enhanced with factory-backed support for a full three years on every 2014 Teryx and Teryx4 side x side!
Strength. Power. Comfort. Convenience. Hauling and towing ability. Reliability. The Teryx model line has been a pinnacle of off-road fun and function since its inception, and the 2014 Teryx ushers in a new era in Kawasaki Side x Side performance, reliability and comfort!
A large selection of Kawasaki Genuine Accessories is available through authorized Kawasaki dealers. As with all off-highway vehicle recreation, Kawasaki encourages Side x Side drivers to drive responsibly and to respect the environment.
For more Information visit www.kawasaki.com
2014 Kawasaki Teryx® Specifications*
Engine:

Liquid-cooled, 90-degree, four-stroke V-twin

Valve system:

SOHC, four valves per cylinder

Displacement:

783cc

Starting system:

Electric

Bore x stroke:

85.0 x 69.0mm

Compression ratio:

10.7:1

Fuel system:

DFI® with two 36mm Mikuni throttle bodies

Ignition:

TCBI w/ electronic advance

Transmission:

Continuously variable belt-drive transmission w/ high and low range, reverse, and a wet centrifugal clutch

Final drive:

Selectable four-wheel drive w/ locking front differential, shaft

Frame:

Double-X reinforced design using large-diameter, thin-walled, high-tensile tubular steel

Front suspension / wheel travel:

Dual A-arm w/ new piggyback reservoir coil-over FOX Podium shocks, with adjustable spring preload and 24-way compression damping / 8.0 in.

Rear suspension / wheel travel:

Independent Rear Suspension (IRS) w/ new piggyback reservoir coil-over FOX Podium shocks, with adjustable spring preload and 24-way compression damping / 8.3 in.

Front tires:

Maxxis 26×9-12

Rear tires:

Maxxis 26×11-12

Front brakes:

Dual hydraulic discs w/ 2-piston calipers

Rear brake:

Sealed, oil-bathed, multi-disc

Overall length:

117.3 in.

Overall width:

61.6 in.

Overall height:

74.8 in.

Wheelbase:

85.8" in.

Ground clearance:

11.0 in.

Cargo bed capacity:

600 lbs., 43.3 W x 27.6 L x 10.4 in. H

Towing capacity:

1,300 lbs.

Curb weight:

1,542.8 lbs.

Fuel capacity:

7.9 gal.

Instruments:

Multi-function digital meter w/ speedometer, fuel gauge, clock hour meter, odometer, dual trip meter and parking-brake indicator, R/N/P/4WD, water temp and low-oil-pressure indicators

Colors:

Vibrant Blue

MSRP

$12,999

Warranty:

Kawasaki Strong 3 Year Limited Warranty

Kawasaki Protection Plus:

12, 24, 36 or 48 months

Wholesale distributor:

Kawasaki Motors Corp., U.S.A.

9950 Jeronimo Road

Irvine, CA 92618

949-770-0400