Projects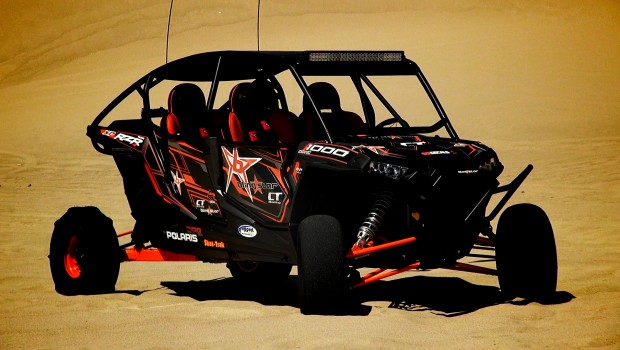 Published on October 22nd, 2014 | by Joe
0
Blingstar's Polaris RZR XP 4 1000 Dune Runner Project Test: WITH VIDEO
We put Blingstar's sand slinger through its paces at Dumont Dunes
It seems that every time a manufacturer comes out with a new flagship UTV, a four-seat version isn't far behind. This makes sense, after all; what made side-by-sides so great was the ability to bring a friend along for the ride. Whether you have a family or just lots of friends, for many enthusiasts, a four-seat car just makes sense.
The 2014 RZR XP 1000 set the UTV world on fire this year.   Polaris also unleashed a four-seat version, the RZR XP 4 1000, doubling the number of thrill-seeking occupants. Corona, California-based Blingstar, has been keeping up with the hottest new machines, offering a wide line of accessories that add style, safety, durability, and function. They recently teamed up with a number of other aftermarket manufacturers to build an XP 4 1000 for the dunes, to be featured in the pages of ATV & SXS Illustrated Magazine. As the king of power in 2014, the RZR XP 4 1000 offers the perfect platform to build upon as a four-seat sand slinger.
ATV & SXS Illustrated was cool enough to allow us to borrow their Blingstared-out RZR 4, so we headed to Dumont Dunes with CT Racing Engine's owner, Allen Knowles, where we met up with a group of his friends for a weekend of fun in the sand!
The Car
The RZR XP 4 1000 is a superb, all-around high-performance machine right out of the box. The goal with this build was to enhance the machine's performance and function, making it an even better all-around sport machine focused on cruising the dunes. The engine was kept stock to maximize reliability; however, almost every other aspect of the machine received attention to enhance comfort, performance, and most of all, fun!
The heart of the machine's transformation was a Blingstar cage. The cage is constructed of Dohm Steel. It features a bolt-on rear section, which serves as a rear bumper and ties in the radius rod plate. It is designed to provide more rollover protection, in addition to adding to the overall strength and rigidity of the chassis. The top of the cage is rounded with a low profile appearance. Blingstar's roof helps keep occupants out of the hot, dry sun. The cage and roof feature a light par pocket and mounts, allowing for easily attached accessory lighting.
Next, attention was turned to suspension. Polaris can't possibly make the stock shocks work perfectly for all of the variables in accessory, occupant weight, and intended use. With this car's setup, and the desire to haul four adults around, Walker Evans Racing, manufacturer of the superb quality stock shocks, revalved and resprung the suspension. Crossovers were added to the shocks, allowing you to change the point at which load is transferred from the tender to the main spring. With this setup, you can effectively raise and lower the car's ride height without overly affecting the overall ride quality.
30-inch Skat-Trak tires mounted on 14-inch DPR Beadlock wheels improve mobility in the sand while ensuring you get back to camp. Sand Track's 16-paddle gliders feature straight horizontal paddles. With shorter paddle height than Skat-Trak's hauler tires, the gliders allow a bit more wheelspin, reducing load on the engine. Skat-Trak, Smooth Buff tires were used up front.
DPR's Ruger UTV wheels are constructed of 6061 aluminum with billet centers. Their beadlock design and custom color options means that you will stand out on the dunes and won't wind up stuck due to a flat. The Ruger's replaceable, machined billet centers add to the wheel's appearance while saving weight. Best of all, they're made right here in the US.
To enhance comfort for long dune cruises, the stock seats were replaced with Pure Polaris seats, manufactured by PRP. They directly replace the stock seats using stock mounting hardware and feature a stitched leather and fabric shell. The seats feature bolstered sides to help keep you in place during aggressive cornering and have cutouts below the headrest for routing four and five-point harnesses. Blingstar equipped the machine with a comfy and secure set of four-point harnesses for all occupants.
Bringing along three friends is a lot more enjoyable when you can better share the experience with them. This car was outfitted with Rugged Radios' RRP660 intercom system with helmet kits. Thanks to the VOX control, the system only transmits when someone is speaking at a specific volume level. The VOX and audio output levels are each individually tunable. There's a line-in for music, which is automatically muted during communications.
With the popularity of UTVs, multiple car caravans are common. To allow car-to-car communication, this RZR XP 4 was also outfitted with Rugged Radios' Vertex VX2200 Car-to-Car kit with PTT. We've successfully communicated several miles in the mountains and up to around 20 miles on flat ground with this radio.
Blingstar's suicide doors help encapsulate the cockpit. They help keep your limbs in and sand out. Opening from front to rear, the opposite of a standard car door, makes getting in and out of the RZR easier. The door latches are mounted at the front of the door, easily within reach. The latch operation is light, smooth, and closes securely. Both the doors and hood were covered in a Blingstar graphics kit customized for this project.
The Test
Cruising the dunes, there was no denying the good looks and sleek lines of this machine. Blingstar's cage offered ample headroom front and rear for our test crew, accommodating six feet tall occupants in the rear seats. The cage's upper front rail is a little lower than on some cages, adding to the cool, chopped, gangster appearance of the cage's profile. In the car, though, taller drivers felt the cage's lower sight line, combined with the roof, impeding their ability to see the top of a steep dune while approaching the transition at the bottom.
The Pure Polaris seats received unanimous praise from our testers for their improved comfort, support, and style. This is the second vehicle we have tested with Blingstar's Suicide Doors, which are quickly becoming one of our favorites thanks to their light weight, good looks, and function.
The 1000's performance was impressive. The engine felt capable of climbing most any hill we challenged–with a small run at the bottom. The Skat-Trak Glider rear tires' willingness to spin a little helped keep the engine feeling lively and willing under the load of pushing a plus 1,500 pound car and nearly 700 pounds of occupants through heavy sand. We felt they were an excellent tire choice for a UTV in the dunes. Without a center ridge, we expected the Skat-Trak Smooth Buff front tires to push badly; however, they surprisingly offered good directional control, thanks to the all-wheel-drive system, which pulls you through turns. The DPR beadlocks were hardly pushed to their limits in the sand; however, they look mean and are welcomed insurance.
Allen Knowles, who had experience with this machine before and after the Walker Evans suspension upgrades, was thrilled with the results. Body roll was dramatically reduced, compared to stock, allowing you to come into corners much hotter. The rear shocks, which can feel harsh in stock trim, felt much plusher over bumps. They tracked beautifully through rolling sand whoops and never emitted a harsh bottoming sensation to the occupants on our largest leaps, even the ones which seemed to make full use of the travel on camera. The Walker Evans reworked suspension was simply superb.
Rugged Radio's communication system seems cooler the more people you plug into it. Being able to chat it up, backseat drive, or simply share sounds of exhilaration really seemed to add to the overall experience of hitting the dunes together and that's exactly what this machine is all about!
Conclusion
Blingstar, and all of the other companies involved, did an outstanding job of taking the stock Polaris RZR XP 4 1000 platform and turning it into a purpose-built dune machine. With the mods focused on comfort, handling, and improved rider communication, there should be no drawbacks in reliability, keeping this machine in the sand and out of the shop. If you are looking to turn your RZR XP 4 1000 into a dune runner for your friends or family, this build is effective, fun, and even with limited mechanical skill could be assembled in a day or two. We say, "Well done, Blingstar" and thanks to the knowledgeable staff at ATV & SXS Illustrated Magazine for letting us test out their sweet sand ride.
Item
Manufacturer
Price
Machine
2014 Polaris RZR XP 4 1000
Cage
Blingstar RZR4 XP 4 1000 Cage/roof/w light bar pocket and mounts
3,100.00
Susptnsion Conversion Front
Walker Evans, Revalved and Resprung with Crossovers
565.96
Susptnsion Conversion Rear
Walker Evans, Revalved and Resprung with Crossovers
1,006.18
Wheels
DPR 14in Beadlock Wheels
$699 each
Tires Front
Skat-Trak, Smooth Buff 30x10x14
$208 each
Tires Rear
Skat-Trak, 16 Paddle Glider 30x11x14
$371.41 each
Doors
Blingstar RZR4 XP 1000 Doors
1,040.95
Front Bumper
Blingstar Gladiator Front Bumper
290.95
Graphics
Blingstar RZR4 XP 4 1000
305.95
Seats
Pure Polaris
$349.95 each
Communication/Audio
Intercom
RRP660 4 Place Intercom System with Helmet Kits.
909.90
Car to Car
Rugged Radios, Vertex VX2200 45 Watt Car to Car Kit with PTT
557.01
Audio Capture Cable
Rugged Radios
45.00
Contacts
http://blingstar.com/
http://www.ruggedradios.com/
http://www.skat-trak.com/
http://walkerevansracing.com/
http://dproffroad.com