Projects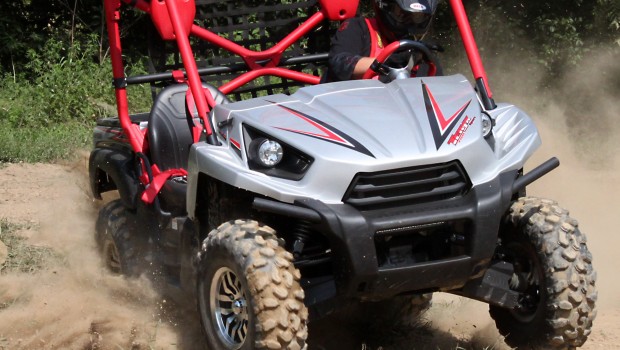 Published on September 20th, 2012 | by Joe
0
Kawasaki Teryx Budget Build: With Video
It only takes 4 products, and 3 hours, 2 make 1 overall improved Kawasaki Teryx 750!
Last year Kawasaki stretched out the Teryx 750, adding in a number of significant updates to the engine, chassis, and suspension, creating the all-new Teryx4. Subtle improvements in each aspect of performance added up to a overall better vehicle. We were very excited about the woods friendly four-seater, and wondered how long it would take for its updates to find their way onto the two-seat Teryx.
We Updated It
Inspired by Kawasaki's improvements to the Teryx4, we decided to apply the same formula to our two-seat, Kawasaki Teryx Sport.  We wanted to make the machine handle better, enhance its engine performance, and improve its comfort, without reinventing the machine, or breaking the bank.
More Power
We wanted to enhance performance, but didn't want all the extra noise or added maintenance that accompanies most aftermarket exhausts. Gibson Performance's Superflow SFT exhaust is claimed to add 7 horsepower to the Teryx. The slip-on system is constructed of stainless steel and comes in either a satin or high temperature black ceramic finish. The exhaust comes with a USFS approved spark arrestor, tucked inside its polished T-304 stainless steel end-cap.  Gibson also offers an accessory turn down end-cap, redirecting heat and sound, while providing a different look. The coolest feature of the Gibson system is its packing free design. Instead of relying on fiberglass to absorb sound, Gibson uses the internal design and shape of the muffler to reduce noise output, the same way they do in their high performance truck and automotive exhausts. This means you never have to repack it!
Better Handling
During our woods test we spent some time dialing in the Teryx's suspension, adding preload to the front shocks and backing some off the rear, to better balance the ride. At this point, we figured swapping out the stock general-purpose bias ply tires would be the most cost-effective upgrade.
CST's latest tire offering for side by sides is the Clincher. This tire features six-ply radial construction with a rim guard. The Clincher is designed for hard pack to intermediate conditions.  Interlocking "C" shaped center knobs put more rubber on the ground in dry conditions for better traction and a smoother ride. The shoulder knobs are spread farther apart, to provide better bite in softer conditions.
We were reluctant to go up from the stock 26×8-12 front and 26×10-12 rear tire sizes, however CST felt their 27×9-12 front and 27×11-12 Clinchers were a better size for most UTVs. We have tried larger tires on 4×4 ATVs in the past with mixed results, but decided to give them a shot anyway.
Improved Comfort
The Teryx4 received new anti-cinch seatbelts, allowing a small amount of give in the shoulder belts. Our two-seat sport model doesn't enjoy this feature, and you know it when traversing whooped out terrain.
The easiest way to remedy this is to install a set of four point harnesses. Super ATV offers two styles, one with an automotive style closure, and the ones we used, which feature a quick release latch system on the lap belt and an upper closure to keep the shoulder straps from sliding down your shoulders. The harnesses feature 2-inch straps with built in shoulder pads.  There are adjustments on the lap belt, shoulder straps and strap that attaches to the cage, allowing you to dial in the fit to your body style.
After ordering our harnesses, we realized that the Teryx doesn't have a cross bar to mount them  to. Utvgiant.com sells a harness bar for the Kawasaki Teryx and Yamaha Rhino that bolt right up to the cage in minutes.  The bar features steel construction and mounts to the cage with half circle clamps and four large allen-head screws per side, and built in belt guides that can accommodate up to 3in straps and keep the harnesses shoulder straps in line with the occupants. The bar can easily be raised or lowered to change the harness's shoulder strap mounting point. UTV Giant offers their harness bar in a wrinkle black, Kawasaki Red, or Kawasaki Green powder-coat finish.
Spin the Wheel
While browsing Super ATV's website, we came across their UTV steering wheels. The 14-inch wheels feature a cool Euro styling and are available in a number of color options with faux carbon fiber accents. The red one was a perfect match for our Kawasaki's cage, so we figured, why not?
For our test we headed to "Bills 491 Off-Road" located in Crittenden Kentucky. The park is only 40 minutes from Cincinnati and features 250 acres open to ATVs, side by sides, trucks, buggies and bikes.
When we fired up the Teryx we were greeted by the Gibson Exhaust's low rumble. It sounds meaner, without the ear bleeding sound output we have heard on some pure race systems. The increase in power was most notable in the lower end and midrange. This helped the Teryx get out of the hole and accelerate out of turns more easily with the added rotating mass and slightly taller size of the CST tires. Under deceleration we did notice some popping. The Gibson exhaust clearly flowed better then stock as it leaned the Teryx out a bit. You will need to add an aftermarket fuel management system with a richer map to take full advantage of this exhaust.
When you switch out tires on a machine, you are usually trading one thing for another. With the Clinchers, we gave up very little for a surprising improvement in overall handling. Small bumps were notably dampened thanks to the tires radial construction. Their slight increase in height allowed them to roll more smoothly across logs, rocks and other obstacles. We were surprised how easily the Teryx steered with the Clinchers. Bump feedback through the steering wheel also seemed reduced. Test rider Rob Frede commented, "This thing steers pretty light for a machine with no power steering."
The tires perform superbly on hard pack. We aggressively negotiating some tight trails scattered with mud holes where the Clinchers easily found traction in two-wheel-drive.  We managed to get the rear end spinning on a couple of slippery creek banks and in sections of the creek with deep sand and mud, but switching into four-wheel-drive got things hooked back up and driving.
We expected the tire's taller size to make the Teryx feel more top heavy, however the reduction in tire roll actually made the machine feel more planted on side hills and entering corners. We still noticed some front end push when charging tight turns, however this trait seemed to be lessened with the Clinchers. Stomp the gas and the rear end can be slide around predictably. Their extra size and weight may slightly hamper acceleration, but the overall improvement in handling is worth way more in our opinion. With the Gibson exhaust, the added power seemed to more than offset that extra drag, so it was all good-to-go!
Adding four point harnesses is the first modification we would make to any sport side by side. When pushing the performance capabilities of the machine, the Super ATV harnesses and UTV Giant harness bar kept us securely in our seats. They increase safety, helping you relax and enjoy the ride in much greater comfort.. It is takes a few extra seconds to get buckled in, but its well worth it!
With a couple of NFL size drivers, we are sorry to report that the Super ATV steering wheel didn't hold up very well. We were able to flex the wheel with little effort and one jarring impact with a log was all it took for Rob to taco it. We managed to bend it back and finish the day, but that is the last time we will be using this steering wheel. It needs to re-visit the drawing board.
The Verdict
After our test, we would have to say that four of the products we used offered noticeable to significant improvement over stock. This build should only take you about three hours to put together, and add up one sportier Teryx . For around $1,300 we are extremely impressed with the results of our build, putting more "SPORT" in the Kawasaki Teryx Sport.
Machine: Kawasaki Teryx Sport
Exhaust: Gibson Performance $359
Tires: CST Clincher  ($ see Dealer)
Harnesses: Super ATV four point   $119.95
Harness Bar: UTV Giant $135
Steering Wheel: Super ATV $119.95