Sport Utility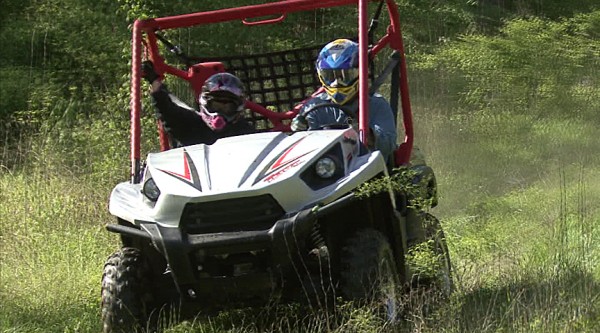 Published on April 26th, 2012 | by Joe
0
2012Kawasaki Teryx Sport, Woods Test: With Video
We finally get some in-depth trail testing with Kawasaki Teryx Sport!
Since its introduction in 2008, Kawasaki's Teryx 750 has received a number of updates and improvements, helping maintain its competitiveness and appeal. The 2009 model received fuel injection; the Sport model was introduced with its lighter flashier wheel set and fully adjustable shocks. 2010 brought about the introduction of new body styling up front, a larger radiator, and reinforcements in the bed area.
Recently, Kawasaki has been busy developing and launching the all-new Teryx4, four-seat models, so for 2012, the two-seat Teryx models were left unchanged, with the exception of new graphics, and color options. This year's base model comes in Sunbeam Red. There are three Limited Edition models featuring a half windscreen, rigid sunroof, and retractable cup holders. The standard LE and SGE models feature automotive style paint. The standard LE model is available in Tungsten Gray. The LE "SGE", Special Graphics Edition, model comes in wicked looking metallic green or silver frame finishes. For the outdoorsman, the LE Camo model features Realtree APG HD camouflage, allied to the bodywork, dash, roof, wheels, and bumpers.   The 2012 Sport model is available unpainted in Super Black, or our favorite, Lime Green, It's the only model with fully adjustable piggyback shocks at both ends. It also receives their beautiful looking, cast aluminum wheels, which shave a total of 8 pounds of unsparing weight off the machine.
After evaluating the Teryx several times in the desert, we've really wanted to test it in the tighter environments found in the eastern part of the US.  A few months back, Kawasaki sent us a 2011 Teryx Sport for a round of product testing that had been previously used by other publications. With a well broken in, but hardly used up Teryx Sport in our position, we decided to find out just how capable the Teryx is in our neck of the woods before we started adding modifications.
The Test
For this test, we decided to introduce the Teryx to someone new to the machine. Aaron Meyer is a former pro ATV racer, who recently got into side-by-sides to fill his need for speed in his post ATV racing years.  Along with working his 9-5 job, Aaron is also responsible for helping his family with their 100-acre property, for which his pure sport side-by-side isn't much help. We thought he would appreciate the Teryx utility capabilities as much as its performance. To fill the role of the passenger, we assigned an unsuspecting Jennifer Wingate to ride along and see what the former Pro racer could do with the Teryx Sport.
The Teryx is powered by a 90 degree, v-twin, liquid-cooled, four-stroke engine, with four valves and single overhead cams per cylinder. The engine fires up easily thanks to a turn key electric starter and fuel injection, featuring two 34mm throttle bodies. The engine is mated to a fully automatic CVT transmission with high and low forward ranges, plus neutral and reverse, selected by a smooth operating gated shifter.
While the competition's engines have reached 1000cc, the Teryx engine is still pretty impressive. Power delivery is smooth and controllable from idle on, although its too-soft gas pedal makes throttle modulation at slow speeds a little difficult for first time drivers. There is plenty of power on tap for hauling or towing, and its broad, strong powerband allows for a lot of fun out on the trail. There is more than enough power for tight technical sections. Long, steep climbs are easily conquered as you wheelie over the top although Aaron did make the switch to low range on a couple of occasions, just to be safe.  The Teryx does well on wide-open trails too, offering impressive acceleration out of the hole, topping out at 51mph with one or two passengers on board. This leads us to think that you run out of gearing before you run out of power on the Teryx.
The drive system features two and four-wheel drive, selected by a switch on the dash, plus Kawasaki's variable front differential lock, controlled by a lever located in the center console. Aaron spent a majority of the day in two-wheel drive, making the switch to four-wheel, when the terrain demanded it. In four–wheel drive, steering effort isn't dramatically affected, except for the race occasions where you need to use the front differential lock.
One thing we forgot to mention–– along with having spent much of his life racing ATVs, Aaron also has a degree in engineering. He was impressed with the construction of the chassis, and seemed a bit surprised how overbuilt certain parts of the chassis were, compared to his RZR.  The frame mates up to dual a-arms at both ends, where the Sport models preload, compression, and rebound adjustable KYB shocks control 7.5 inches of wheel travel.
After some initial getting used to, Aaron felt the rear suspension's action was a bit firmer than the supple action of the front shocks. He removed two turns of preload, backed out two turns on compression damping, and sped up rebound a bit for good measure. The changes worked together providing a more plush and balanced ride over rain ruts, rocks, and log crossings. Dialed in, Aaron felt, " The suspension is plush and smooth, making it comfortable for all day trail rides."
Of course, we jumped it. Like most sport utility UTVs, the Teryx is a bit front heavy, even flying off a ramp with a low angle of takeoff. Dialed in for the trail, the shocks find their limits on landings. If you want to go big on the Teryx, you'll need to invest in some aftermarket suspension. For work or trail use, it's plush and very tunable.
The Teryx' dimensions are pretty normal for the 700cc-800cc class at 58.5 inches in width, with a wheelbase of 76 inches, and 11.6 inches of ground clearance. At 1,395 pounds, it's around 196 pounds heavier than the weight of the Yamaha Rhino 700 Sport, although the Yamaha lacks the rush of Kawasaki's v-twin engine.
The Teryx provides sure-footed, predictable handling on fast, wide-open trails. It's equally stable crawling up and down mega hills, or short, steep, creek banks. The Teryx' handling proved itself trustworthy in tricky situations like side hills, although, as Aaron noted, " Being a sport utility machine with a taller seat height makes the Teryx seem a bit less stable than it actually is." Ground clearance is good, but the protruding front end occasionally frames out on extreme approach angles.
Steering on the Teryx is acceptably light. Directional control is good while cruising or driving aggressively. At lower speeds, the front end sometimes pushed a bit–– nothing serious, but it was noticeable from time to time. If you want to steer the Teryx with the back end, its snappy engine and good stability make it possible.
The Teryx' speed is as easily controlled as it is achieved, thanks to Kawasaki's Engine Brake Control system, dual piston caliper-equipped front hydraulic disc brakes, and sealed multi-disc hydraulic rear brake.  Aaron kept repeating throughout the day, " I really like the engine braking system. I only need to tap the brakes on the steepest descents." This aids control and saves wear and tear on your machine's brakes. Aaron felt the brakes offered acceptable power; however, we wanted a bit more feeling at the pedal.
A full-featured, digital instrument display and comfortable steering wheel shape highlight the Teryx' slightly dated interior. There's a passenger side glove box, and center-mounted, pull out, dual cup holders. The bucket seats offer a very upright seating position. Three point seat belts hold you in place, but lack the comfort adding, anti-cinch design used in the Teryx4. The roll cage-mounted passenger hand holds aren't very comfortable, and leave shorter passengers reaching for a hand hold. The grab handle Kawasaki installed on the left side of the passenger on the Teryx4 took a big step in the right direction.
Aaron liked the feel of the steering wheel, but wished it had adjustable tilt. He also noted, "The seats make you feel like you're sitting up too straight, especially on steep descents." Aaron also mentioned that he wished there was a bit more bodypaneling on the sides to keep your limbs more secure.
Whether you're working or enjoying the great outdoors, the utility capabilities of the Teryx is a great asset: the gas strut assisted, tilting cargo bed can haul up to 500 pounds. The rear hitch receiver can tow up to 1,300 pounds.
Conclusion
It isn't the newest kid on the block, but the Teryx is a tough, proven sport trail rider and workhorse.  Kawasaki and Funco's Chad George is tearing up the competition racing a highly modified Teryx, so the skies the limit when it comes to modifications.
Having finally trail-tested the machine, we've come away very satisfied. It was cool to drive out in the desert, but pounding whoops at high speeds isn't Teryx's forte. Its suspension's action and   handling seem curtailed to trail riding in the trees, where nimble handling and a plush ride are key, and its v-twin engine feels extremely capable.
We liked the Teryx in the past. Now having ridden it in our neck of the woods, it's even better than we originally thought.
Manufactuter: Kawasaki
Model: Teryx Sport
MSRP: $12,199
Related Reading
2009 Kawasaki Teryx Sport Test
2010 Kawasaki Teryx Sport Test
Summary: Having finally trail-tested the machine, we've come away very satisfied. It was cool to drive out in the desert, but pounding whoops at high speeds isn't Teryx's forte. Its suspension's action and handling seem curtailed to trail riding in the trees, where nimble handling and a plush ride are key, and its v-twin engine feels extremely capable. We liked the Teryx in the past. Now having ridden it in our neck of the woods, it's even better than we originally thought.