Projects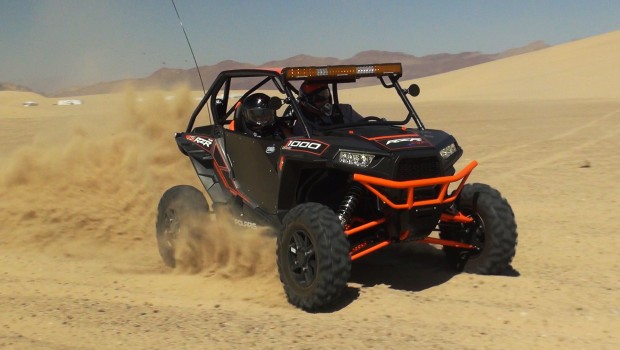 Published on July 28th, 2014 | by Joe
0
HMF adds Performance and Durability to the RZR XP 1000; with VIDEO
Adding ground clearance, function, and durability with HMF'S NEW IQ Defense: Plus we put their latest power-enhancing and tuning options to the test!
For most motor heads, simply owning the hottest new machine on the market is never enough. Adding performance to a UTV often begins with the exhaust and accompanying fuel management requirements. HMF has been serving these needs for years.
Often used for long distance off-road touring, enthusiasts are commonly adding items to improve the function and durability of their machines. Now, HMF has put their years of US-based design and manufacturing experience to work creating their new, expanding line of IQ Defense products, to serve some of the other common needs of UTV enthusiasts.
Hooked on the new Polaris RZR XP 1000, we were eager to find out what the northern Ohio-based manufacturer had to offer. So we outfitted an XP with HMF's new IQ Defense front bumper and High Clearance Radius Rods. While we were at it, we installed HMF's Performance Series Exhaust and Dobeck's new AFR+ GEN4 controller.
The best offense is a good defense.
With no real front-end protection or a place to mount accessory lights, HMF's IQ front bumper was a welcomed addition to our car. The bumper is constructed of .095" steel tubing and is available in different powder coat colors to match your machine. The rear of the bumper features a steel plate with multiple elongated holes, allowing you to easily attach various accessory lights. The bumper features an aluminum front mini skid, which provides a clean look and some additional protection. For those running a winch, the front mini skid is configured to accept HMF's accessory fair lead with simple bolt-up installation. The bumper's construction looks rugged with precise even welds. Fortunately, there is no need to flex or tweak it to get it lined up as its fitment was spot-on.
HMF's Radius Rods are designed to be stronger than the stock rods, which are susceptible to bending from impacts with rocks or other large trail debris. HMF constructs its radius rods with 1.25" diameter, .095' thick, tig-welded, chromoly tubing. The rods feature stainless steel bushings and use high quality FK heim joints. HMF offers several versions of its radius rods: a complete set with standard design lowers, a complete set with high clearance lowers, or you can purchase a pair of high clearance lower radius rods by themselves. We went with the high clearance lowers only for added clearance out in the desert, while saving $200 over purchasing the full set. We can always go back and purchase HMF's upper rods when our budget allows. Since the radius rods don't change anything about the rear suspension's geometry or function, there is no need to adjust or modify your suspension.
Bolting up with ease, the HMF's lower rods are around the same diameter as the stock radius rods. A majority of their length runs parallel with the ground, tapering down rapidly near the ends, providing maximum ground clearance over the widest possible area. The first bend, where the rod tapers down, is gusseted for additional strength.
Power Up!
Checking out what HMF's best known for, their Performance Series exhaust for the RZR 1000 features a dual design and is available as a full system only. The Performance Series is said to spread power boosts across the board. HMF is claiming a four horsepower gain in top-end power and a two-pound increase in torque. The exhaust is constructed primarily of stainless steel with aluminum silencer bodies. The silencers are available with either turn-down or Vector end caps and come standard with spark arrestors. Both the silencer body and end caps come in a brushed aluminum finish, or can be powder coated a number of colors to match the look of your machine.
The Performance Series' head pipe comes with a bung pre-installed, which allows plug and play installation of the wide band 02 sensor used with Dobeck's AFR+ Gen4 fuel controller. The AFR+ Gen4 system takes the guesswork out of getting our EFI tuning right. The engine system can be installed with minimal mechanical skill and allows you to dial in your machine's air/fuel mixture for zero, mid, and maximum engine loads independently. You can also choose the points at which the controller switches between the zero and mid load air fuel mixture, and the mid to full load mixture. Another mode allows you to richen or lean out your air/fuel mixture at times when you make abrupt, dramatic increases in throttle. All of these settings are easily accessed through the system's easy-to-use combination air/fuel gauge and controller, allowing you to make changes and get instant air fuel readings.
The green light, or zero load setting, operates as an open loop, delivering the amount of fuel you prescribe. Dobeck does this as some exhausts actually draw air back up the exhaust between pulses, not allowing the 02 sensor to accurately measure the amount of oxygen coming out of the motor. Once you reach the yellow light, or mid load setting, the system operates as a closed loop system, continuing throughout the full load, or red setting. With the 02 sensor, the closed loop system allows the Dobeck controller to actively keep your EFI delivering the perfect air/fuel mixture, automatically compensating for environment changes or the addition of performance parts such as the HMF's exhaust, cams, pistons or whatever mods are within the horsepower-producing capabilities of the stock fuel injectors.
The settings accessible from the control will serve the tuning needs of most individuals; however, they only scratch the surface of the tuning options the system offers for highly skilled tuners or motor builders.
Test Drive
To help judge HMF Performances Series exhaust's impact on exhaust flow, we took a quick spin without the Dobeck controller installed. Test driver, Allen Knowles, immediately noticed the engine pinging on top end, leaned out by the extra flow provided by the exhaust. Al installed the Dobeck system and set the air fuel mixture on the green, yellow, and red modes between 13 and 13.5 parts oxygen to one part fuel. He felt that got him in the ballpark running smoothly across the RPM range with crisp throttle response always available.
After a couple minutes of tuning, Al was back out racing down the desert roads and carving up the dunes of Dumont. In spite of the improvement in OEM exhausts, there was a noticeable increase in low to midrange power on holeshots and powering out of corners. The extra boost in torque and midrange comes in handy when your RZR is loaded down with accessories. Top-end power seemed comparable to stock, which we attribute to the engine's stock internal setup. Al felt the stock exhaust could become a power bottleneck on a built motor, making the HMF exhaust and Dobeck AFR+ even more valuable as additional motor modifications are made.
As tested, the Performance Series exhaust puts out 100db of sound at 4000RPMs, just 5db more than the stock system. For those who drive where noise is a factor, installing HMF's Quiet Cores in the silencers cuts noise down 10db to 90db, making the HMF exhaust 5db quieter than stock at 4000RPMs. From the driver's seat, without the accessory quiet cores installed, the HMF exhaust isn't objectionably loud, even on long drives. From outside the car, the HMF emits a throaty, racy sound at a frequency that's easy on the ears.
We noticed some discoloration of the powder coat near the silencer's end caps. HMF tells us that they are aware of this problem on some early models and have since switched from glass wool to steel wool packing for better heat dissipation, which they say eliminates the discoloration. HMF assured us that they are willing to stand behind their products should a customer have an issue. As consumers ourselves, that's what we like to hear.
It's hard to fully appreciate the protection provided by the IQ bumper, until you fail to stop in time and hit something, or try to push over a tree that was rooted a little better than expected. That said, we were impressed with the bumper's construction and dig its convenient options for mounting lights. We realize that looks are a matter of taste; however, several individuals stopped us to ask who made our machine's bumper, and we can't lie–– we think the IQ bumper looks sharp!
On rock-strewn sections of the trail, HMF'S high clearance radius rods offered a bit more clearance than the underside of the chassis. We were crushing rocks with the front a-arms that the HMF radius rods were flying high above. We expect that a high clearance lower front a-arm from HMF is in the works.
Conclusion
It's hard to justify purchasing an aftermarket exhaust if you can't feel the power gain; with the HMF Performance Series exhaust, we could. Be warned, though; the combination of the HMF exhaust and Dobeck AFT+ fuel management system may have even complete novices feeling like an engine tuner, looking to add more performance mods to their machine. It's a lot easier to justify spending more money on your motor when you know you will get the horsepower you paid for.
The new IQ Defense products feature high-quality construction. The radius rods work as advertised adding significant clearance. They are similar in price and design to other rods on the market making them a good value. The IQ bumper is not the least expensive bumper on the market. However, its robust build, large coverage, versatile light mounting options, and, yes, appearance make this one of the all-around best bumpers we've tried.
HMF is branching off in a new direction, and so far, we like where they're headed.