Sport Utility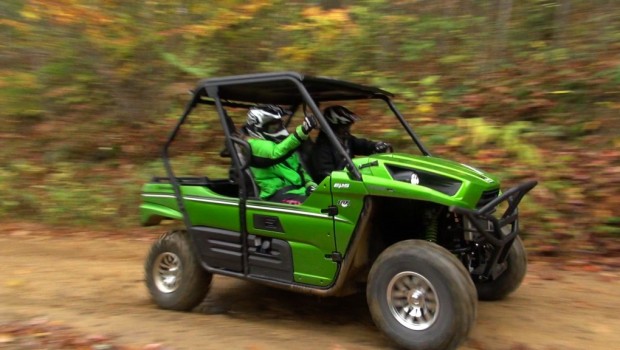 Published on November 18th, 2013 | by Joe
2014 Kawasaki Teryx 800 First Test: with VIDEO
Whether you work hard at play or play hard at work, the 2014 Teryx 800 excels at both!
For 2014, Kawasaki went back to the drawing board with the two-seat Teryx. When Kawasaki launched the original Teryx 750 back in 2008, their goal was to build a sport-utility machine that would outperform the Rhino 660, and they succeeded with a machine that offered superior stability and engine performance. Since then, a lot has changed. The pure sport segment has become established, resulting in a serious performance infusion into the sport-utility class. To remain competitive, the Teryx was in need of some serious updates, and that's exactly what it got!
A Wolf in Wolf's Clothing
The all-new 2014 Teryx 800 received styling updates that give the car a clean, aggressive, and modern appearance. The utilitarian appearance of the rear of the machine has been completely eliminated, as the dump bed is nearly seamlessly integrated into the machine.
New Chassis and Suspension
Far more than purely cosmetic upgrades, the vehicle's transformation began with an all-new, Double-X, chassis, based on the frame developed for the Teryx4. The Double-X frame features cross members that bridge each of the frame's boxed sections for enhanced strength and reduced flex. The frame is constructed of large-diameter, thin-walled high-tensile steel tubing that further enhanced strength and rigidity.The new ROPS certified cage is designed to work the Double-X frame, yielding more strength and less flex. The cage features an expanded rear section with angled down tubes. Based on outward appearance, the new cage looks to offer improved form and function.
The new 2014 chassis yields a machine that measures in at 61.5 inches wide, with a wheelbase of 85.8 inches, 11 inches of ground clearance,and74.8 inch overall height. That makes the new Teryx 800 3.1 inches wider, 9.8 inches longer, and an inch lower than its predecessor.6/10 of an inch of its lower height is a small loss in ground clearance, lowering the machine's center of gravity.
Dual a-arms at both ends are now paired with Fox Podium shocks. The new shocks which were developed over two years of testing, feature preload and compression damping adjustment, and increase wheel travel ½ inch up front to 8 inches, and 8/10 of an inch out back to 8.5 inches.
All of the Teryx 800 models come with electric power steering. The EPS used engine speed and torque sensors to judge the amount of steering assistance needed. It's designed to offer maximum assistance at lower speeds reducing assistance as speeds increase. We found its performance to be well calibrated offering a light, but natural, feeling, while reducing bump feedback.
Bigger, Badder, 800cc Class Power
Inheriting the engine updates that were designed into the Teryx4's 90 degree, v-twin powerplant, the new Teryx 800 enjoys 26% more horsepower and 12 % more torque than last year's two-seat Teryx 750. This year's bore and stroke numbers measure in at 85 x 69mm. The 3mm increase in stroke bumps displacement from 749cc to 783cc. The 34cc displacement increase was accompanied by increased compression, up from 8.8 to 10.7:1. Other engine updates include new cam profiles in the four-valve single overhead cam heads, a new exhaust system, and revised fuel mapping. In addition to the extra power and torque, these changes are claimed to add up to a 20% increase in fuel economy.
Air is drawn through a snorkel and high-volume airbux located high under the hood. We like the location and ease of access, but would soon replace the stock paper filter with a foam unit. Digital fuel injection handles that air and fuel mixture, delivered to the cylinders via dual 36mm Mikuni throttle bodies.
The Teryx 800's Power Drive CVT features a new centrifugal clutch, carried over from the Teryx4. The centrifugal clutch is located between the crank and CVT to reduce belt shock and slipping, while providing solid acceleration at lower speeds.The CVT features a new Kevlar-impregnated belt to deal with the engine's additional power output.
The transmission features both high and low ranges, plus neutral and reverse. The drive system now features standard two-wheel and four-wheel drive, or four-wheel-drive with differential lock, controlled by a switch on the dash board. Variable differential lock is now a thing of the past.
Improved Cockpit Comfort
Kawasaki provided a lot more interior room for 2014, claiming that they have the most shoulder and legroom in the class. New high-backed bucket seats and three-point seat belts with anti-cinch shoulder straps offer a huge leap forward in comfort, especially on long all-day rides. The seats offer three-position adjustment for drivers of various sizes; however, a tool-less automotive style adjustment system would be a nice future update.A left side-mounted grab handle for the passenger works well in conjunction with the right side grab handle mounted on the cage, allowing the passenger to stabilize the upper body in the rough stuff.
Enhanced Storage and Cargo Capacities.
Whether you're hunting, fishing, camping, or hauling camping gear like us, the dual storage lockers located behind the seats offer 182 liters of combined storage. They feature rubber-sealed, latching lids which offered excellent resistance to dust, rain, splashing muddy water, and everything else Mother Nature threw at us. Other interior storage includes a platform with tie-down points located between the storage lockers, dual cup holders up front, and a passenger side mounted glove box.
The cleverly disguised, hydraulic-assisted dump bed features 600 pounds of capacity, up 100 pounds from last year. The new dump bed features a composite bottom and slotted sides, which allow you to easily partition the bed with plywood, or panels available through Kawasaki's accessory line.
There is the familiar two-inch hitch receiver at the back of the machine, continuing to offer 1,300 pounds of towing capacity.
LE and Camo Features
In addition to all of the other new features, the LE and Camo models come with the addition of roofs and LED headlights. The LE model also benefits from color-matched a-arms and suspension springs, three-tone seat covers, and cast aluminum wheels.
Ride Review
All of the updates have added up to a 152.1, or 9% increase in weight compared to the old 750. Just think of it as 152.1 pounds of awesomeness! The new Teryx 800 is better than the old 750 in nearly every way imaginable.The longer, wider, and lower dimensions add up to a rock solid handling machine. Tight, sometimes off-camber corners could be attacked with aggression. Body roll is reduced and minimal with the new chassis and suspension design. The added rigidity of the new Double-X chassis really adds to the sport appeal of the machine making you feel like it's okay to push your limits a bit.
The machine does a good job of going where it's pointed, with just a hint of understeer. Clicking into four-wheel drive will have the front wheels pulling you out of turns, maximizing corner exit speeds. However, the pumped-up V-twin engine makes power-slides in two-wheel drive a snap.Having EPS lets you relax a bit more and drive with less fear of having the wheel ripped from your hands.
The new Fox Shocks seemed well matched to the new, more rigid and stable chassis. Out of the box, the shocks are set up a little soft for aggressive sport driving. We went in five clicks from shocks, then ran the rear compression adjustment all the way in and backed them out 8 clicks. This setup seemed to allow us to make full use of the travel on big bumps and g-outs, without any bottoming clunk or sensation through the seat.Without touching spring preload, we had our machine handling well on the rocks, g-outs, and water breaks of the Hatfield McCoy Trail system.We did notice a slight tendency for the rear end to kick on water breaks, and wondered if the addition of rebound adjustment to the rear shocks would allow us to tune that out.
Suspension travel numbers lie in the middle of the 700-800cc sport/utility class. The shocks' performance seems slanted toward the sport side, although there was plenty of adjustment to soften up the ride for low speed cruising.
The new engine exceeded our expectations. Despite Kawasaki's efforts to keep noise down in the cockpit, they didn't completely muffle the growl of the pumped up engine. The increased performance of the 800 is definitely noticeable, as it easily ran down the older Teryx 750 Kawasaki we had on hand.
Even on the steepest of hills, the engine's torque makes the transmission's low range seem unnecessary. We are sure this engine will work well for hauling and towing, but what got us hooked is its playful side. A stab at the gas yields throttle response that will impress pure sport enthusiasts. Its ample midrange power  makes the Teryx fun to rip out of corners and up hills with. The sweet sound and willingness of the V-twin to rev really adding some high-performance flavor to the new Teryx 800.The engine feels equally happy just putting around or running flat out.The Teryx 800 possesses one of the most fun and versatile engines in the 700-800cc sport/utility class.
Braking performance is good and well matched to the performance output of the engine. Combined with the engine braking system, the car's speed is easily modulated on long descents, or when you're coming into a turn hot.
Cabin comfort and ergonomics took a huge step forward on the new Teryx. The doors are high quality and come standard. The seats feel worthy of being in a pure sport machine. We noticed a couple local riders checking out the cabin, commenting on how easy the vehicle is to step in and out of compared to a RZR. We agree; although, we would like to see the addition of an automotive-style adjustment system on the adjustable position seats.The anti-cinch seat belts are far more comfortable in the rough stuff than the rigid clavicle bruisers used in the 750.There is no tilt adjustment on the steering wheel, but no one seemed to mind, so Kawasaki must have put it in a good spot. Combining the handle on the roll cage with the one on the left side of the passenger seat, its now easier for the passenger to maintain stability in the rough stuff.
Durability and the 3-Year Kawasaki Strong Warranty
We've always been impressed with the robust build quality of the Teryx units. Kawasaki seems determined to prove the durability of its machines to us with these challenging malty-day trips and, as usual, none of the test units failed to complete the journey. Now offering a 3-year warranty against manufacturer's defects, if you properly maintain your machine and don't crash it, you can have the peace of mind knowing that Kawasaki will stand behind it for 36 months.
Conclusion
With its cleverly cloaked dry storage boxes and dump bed with expanded capacity and features, the 2014 Teryx 800 should prove to work harder than ever. Its aggressive styling, sporty handling, high-torque, fast-revving engine, and exceptional Japanese quality fit, finish, and durability make the 2014 Teryx 800 a great machine for those who work hard at play or play hard at work.
Specifications
---
| | |
| --- | --- |
| Engine | Liquid-cooled, 90-degree, four-stroke V-twin |
| | |
| --- | --- |
| Valve system | SOHC, four valves per cylinder |
| | |
| --- | --- |
| Fuel system | DFI® with two 36mm Mikuni throttle bodies |
| | |
| --- | --- |
| Ignition | TCBI w/ electronic advance |
| | |
| --- | --- |
| Transmission | Continuously variable belt-drive transmission w/ high and low range, reverse, and a wet centrifugal clutch |
| | |
| --- | --- |
| Final drive | Selectable four-wheel drive w/ locking front differential, shaft |
| | |
| --- | --- |
| Frame | Double-X reinforced design using large-diameter, thin-walled, high-tensile tubular steel |
| | |
| --- | --- |
| Front suspension / wheel travel | Dual A-arm w/ new piggyback reservoir coil-over FOX Podium shocks, with adjustable spring preload and 24-way compression damping / 8.0 in. |
| | |
| --- | --- |
| Rear suspension / wheel travel | Independent Rear Suspension (IRS) w/ new piggyback reservoir coil-over FOX Podium shocks, with adjustable spring preload and 24-way compression damping / 8.3 in. |
| | |
| --- | --- |
| Front tires | Maxxis 26×9-12 |
| | |
| --- | --- |
| Rear tires | Maxxis 26×11-12 |
| | |
| --- | --- |
| Front brakes | Dual hydraulic discs with 2-piston calipers |
| | |
| --- | --- |
| Rear brakes | Sealed, oil-bathed, multi-disc |
| | |
| --- | --- |
| Ground clearance | 11.0 in. |
| | |
| --- | --- |
| Lighting | (2) 35W headlights, (2) 8 W taillight, 24 W stoplight |
| | |
| --- | --- |
| Cargo bed capacity | 600 lbs., 43.3 W x 27.6 L x 10.4 in. H |
| | |
| --- | --- |
| Towing capacity | 1,300 lbs. |
| | |
| --- | --- |
| Instruments | Multi-function digital meter w/ speedometer, fuel gauge, clock hour meter, odometer, dual trip meter and parking-brake indicator, R/N/P/4WD, water temp and low-oil-pressure indicators |
| | |
| --- | --- |
| Warranty | Kawasaki Strong 3 Year Limited Warranty |
| | |
| --- | --- |
| Kawasaki Protection Plus | 12 or 24 months |
2014 Kawasaki Teryx 800: Ratings
Summary: With its cleverly cloaked dry storage boxes and dump bed with expanded capacity and features, the 2014 Teryx 800 should prove to work harder than ever. Its aggressive styling, sporty handling, high-torque, fast-revving engine, and exceptional Japanese quality fit, finish, and durability make the 2014 Teryx 800 a great machine for those who work hard at play or play hard at work.